A tall task awaits Andy Murray as he prepares to begin the week he hopes will end with him retaining the Wimbledon title.
The 27-year-old has another Fred Perry record in his sights as he bids to become the first British singles player in 78 years to win back-to-back Wimbledon crowns – Perry did not defend his title in 1937 because he had turned professional.
Murray cruised through the first week, dropping just 19 games in the victories over David Goffin, Blaz Rola and Roberto Bautista Agut, but his path to the trophy is treacherous.
Grigor Dimitrov, Novak Djokovic and probably Rafael Nadal lie in wait but first Murray must overcome the 6ft 8in Kevin Anderson.
The South African 20th seed will make his Centre Court debut on Monday afternoon as he looks to reach the quarter-finals at a grand slam for the first time.
"It's one of those things where I think there will be more pressure on him than there is on me, so I can just relax a little bit more."
Kevin Anderson
Anderson and Murray are occasional practice partners and the gentle giant made sure he did not miss Murray's big moment when he opened the tournament on Monday.
Special
"It was great to see," said Anderson. "I got into the locker room and I think the TV wasn't on and I asked the guys to put it on.
"I think it's great to see the defending champ go out for the first time. It's an amazing tradition and something very special."
Murray and Anderson have shared their two previous meetings but the most recent of those came three years ago.
Despite his height, Anderson is a baseliner rather than a serve-volleyer and a decent mover.
Murray did not tailor his practice other than to have assistant coach Dani Vallverdu serve at him from the service line to mimic the angle the ball will be coming at him.
Anderson hopes nerves will not be too much of a factor after the stress of going out to play Fabio Fognini in his third-round match contributed to his back seizing up.
"It obviously means so much to all of us playing here at such a special tournament," he said.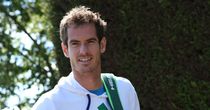 Andy Murray: Has dropped just 19 games so far
"I'm in new territory right now. Hopefully in the years to come, once you've been here, it will be easier to go out and play those sort of matches.
Fresh
"But throughout my career I've played more of the top guys and definitely feel more comfortable with it.
"It's one of those things where I think there will be more pressure on him than there is on me, so I can just relax a little bit more."
Murray, meanwhile, does not think the schedule problems in the bottom half of the draw will prove decisive.
The Scot is in the top half and therefore does not need to worry about the knock-on effect of bad weather on Saturday that could result in a player having to play five matches in seven days.
Asked if it boosted his chances, Murray said: "Not really. I've played many grand slams and sometimes the schedule works in your favour and sometimes it doesn't.
"At least they'll have had a two-day break so they'll be completely fresh when they start (on Monday). It's just bad luck. It happens sometimes. You just get on with it."
Tagged under